Healthcare Industry Solutions to Better Serve Patients
Managing Paper, Process & Patients During a Health Crisis
In good times and in bad, the NHS and healthcare providers must constantly balance the duties of compassionate patient care with the requirements of basic administrative tasks. The pressures placed on care givers by the COVID-19 pandemic heightens the need for hospitals and other healthcare providers to make sure their systems are robust and adaptable, so that employees can swiftly process high volumes of critical information for disease testing, patient admissions and communications. A longtime partner to customers in the healthcare space, Xerox is here to help.
How Xerox Supports Healthcare
Seamless patient admissions & testing paperwork
Healthcare providers need to quickly and efficiently process patient data. By simplifying processes, healthcare providers can improve patient care, and healthcare payers and insurers can offer better customer service.Our workflow automation solutions for the healthcare industry can serve as a bridge between your traditional print and cloud-based digital processes, to help you digitize paper forms for simple, seamless data collection.
Better outbound patient communications
Typical patient communications have been tested amid the COVID-19 pandemic, as hospitals strive to keep the public and their patients updated on COVID testing locations, notified when test results are ready, and more.
Featured Healthcare Solutions
A Road Map for Digital Transformation
Revolutionise workflows, boost innovation and bolster security.
Create electronic documents
Read about how a hospital converts hard-copy records to digital and accesses them from the cloud.
Patient Care Brought to a Whole New Level
Xerox® Health Records Automation Service helps you not only transition from paper to digital health records but also continue to organise and coordinate digital native records all into one convenient place. Now you can spend less time managing patient data, and more time providing quality care.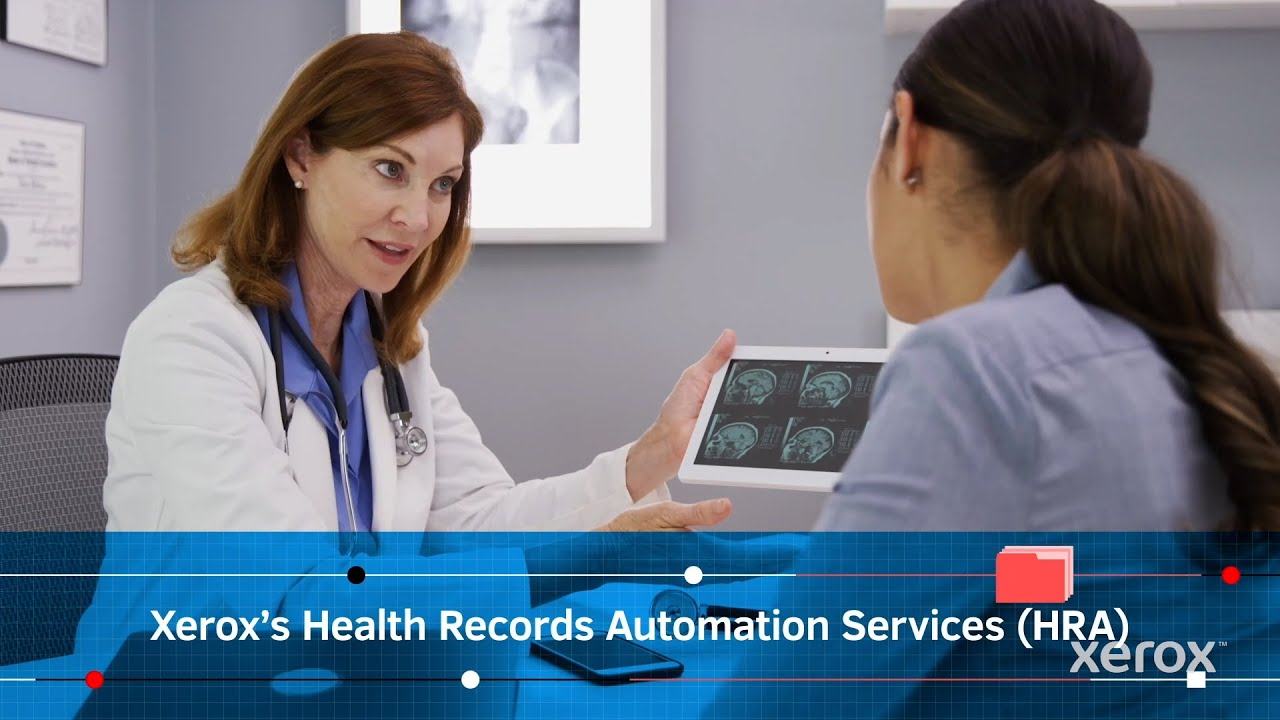 Patient Records: Digitised

Xerox is improving access to patient data and freeing up hospital space for Imperial College Healthcare NHS Trust.

Medical Center Uses Xerox DocuShare to Help Patients

See how White Memorial Medical Center turned to Xerox® DocuShare® to go digital and improve patient care.

Transforming the Patient Experience by Digitising Medical Records

"Having instant access to a patient's medical records is essential to delivering the highest quality care in a timely manner," said Josh Chandler, associate director of IT at Bedfordshire Hospitals NHS Foundation Trust.

Xerox Helps NY Eye Clinic See Clearer

See how Xerox helped Somers Eye Center cut monthly costs and processes with the right devices and Xerox Managed Print Services.
Apps for Xerox® ConnectKey® technology enabled printers and MFPs will make your workflow simpler and more efficient.